Welcome to Happy Town

A period of peace following a series of unsolved kidnappings is cut short when a new crime has everyone talking in the small Minnesota town of Haplin. New ABC Series so feel free to edit and create as much content as possible.
SPOILER ALERT: CONTENT MAY HAVE SPOILERS
Latest activity
Featured Character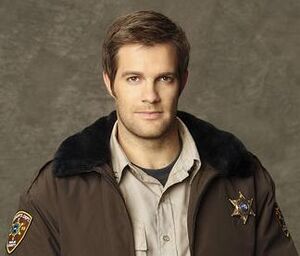 Tommy Conroy is a life-long resident of Haplin, Tommy flies under the radar of responsibility as one of the town's Deputy Sheriffs - which is an easy thing to do when the town has no crime and your dad is the Sheriff. But Tommy's whole life is changing amidst the town's first murder in 5 years. Thrust now into a world full of responsibility, Tommy quickly becomes the person the town looks to for answers.
Blogs

Devync4
•
or those of you not aware, ABC is more or less pulling the plug on Happy Town already. You can read the story here: http://happytowngazette.com/home/2010/05/11/abc-gives-happy-town-a-stupid-move/
In …